My Inspiration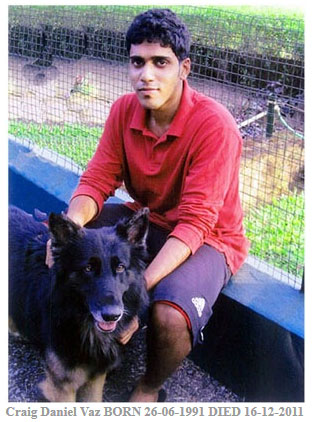 "Suffering is justified as soon as it becomes the raw material of beauty"
~ Jean-Paul Sartre

This is my older son Craig Vaz. He is the very reason I jump out of bed each morning to paint the day with the bright colours of creativity. His tragic death literally pushed me further into this beautiful place of intuition and inspiration...allowing me to be an artist now as if it were my destiny!

Painting brought me wholeness and healing that incorporated my loss. The thrill of discovering the many miracles that begin to unfold in the unusual and off beat techniques I employ in my work, gives me so much of satisfaction and peace.

My life has now become a life of MEANING focusing on serving and giving. The joy of giving doubles my happiness. I have therefore adopted his name as my artist pen name as I sign each painting as CRAIG VAZ.

This is my way of remembering and celebrating the life of a beautiful human being that lived with us.